Dr. Susan Block's
TRAVELS with MAX
Wherein the Doctor and Her Butler
Visit the Best Libertine Clubs of
C A N N E S
February , 2003
by Dr. Susan Block
Video Photos by MAXSU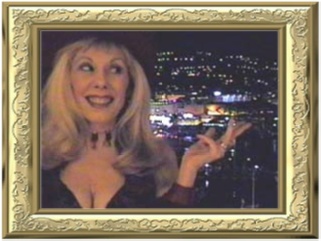 Come to Cannes: World's Most Sophisticated Village!
Dr. Block's choker by Artistic Visions


B A C C H A N N A L . C A N N E S
Join Dr. Suzy, Friends & Lovers on a Libertine Tour of Cannes, visiting some of these hot swinger clubs and more, during the Cannes Film Festival (May 14-26) in beautiful chic Cannes! For information, call 213.749.1330, click here or email us.

The city of Cannes is the ultimate mix of civilization and nature, seamlessly combining the charm of a small Mediterranean fishing village with the artistic sensibility of Paris and the glamour of Hollywood. During the famed Cannes Film Festival, the place is crawling with movie stars of the uppermost mega-wattage. During the big television festivals like Mipcom and MipTV, the Little Town that Can(nes) is wheeling and dealing worldwide boob tube programming at the highest levels.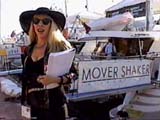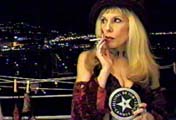 Mover Shaker Dr. Suzy at Mipcom 2002 and smoking with her Cannes can by
her wet panties overlooking her penthouse view of the Palais du Festivals
American visitors are well-positioned to take advantage of the Hollywood angle, especially the fact that even long-time Cannes residents are star-struck, though just as discreet about celebrity sightings as native Angelenos. For instance, everyone kept staring at Max, sure that he was either Jack Nicholson or Sean Connery, and everyone looked at me, sure that I was, well, me.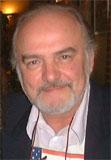 Max flanked by his Celebrity Lookalikes: Sean Connery and Jack Nicholson
This garnered us lots of smiles (a rarity among strangers in France), and a few privileges.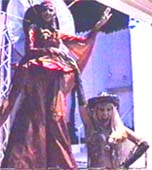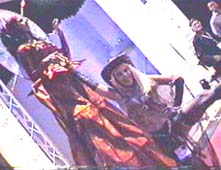 Dr. Suzy dances with Cirque du Soleil stiltwalker at the Opening Cocktail Party for Mipcom 2002 in Cannes
Even if you don't look like a star, you can always act like one. Just make sure you've got the euros to back up your airs, because Cannes is not cheap (though it's a lot cheaper than Paris).




Dr. Suzy and Jennie D. at the Mipcom Fashion TV birthday party at
Bâoli (where the stars hang out)
But Cannes has something more than Hollywood, in part because French zoning laws are much more liberal and humane than their American counterparts. That is, right in the center of town, alongside the hotels, restaurants, the laveries, boulangeries and patisseries, as well as the private residences, are swing clubs. This is not possible in the U.S., at least not legally, thanks to America's strict zoning rules (which seem designed to benefit the automobile and oil industries), liquor laws that don't benefit anybody, and our old Puritanical traditions.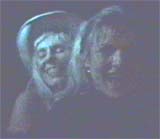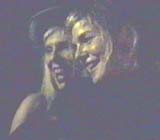 Fun with Jennie D. at FTV in Bâoli
Not so in Europe, especially the French Riviera. After all, where else do the hoi polloi get to behave as extravagantly as we imagine the stars do without having to mortgage the yacht? At the swing clubs! Or as they say en français: les clubs libertines. Also called "les clubs échangistes," where couples exchange partners. Where the women can dress up more lasciviously than Heather Graham, and the men can score as many babes as Johnny Depp. And who knows, either one of those stars, and many more, could show up at one of the Libertine Clubs of Cannes, especially around Festival time.

Heather Graham & Johnny Depp
confer about whether to go to
l'Oustaou, Lez Oub'or l'Oasis
Anyone can be a star at a Libertine Club. No agent is necessary. All you need is the nerve and the appetite. Just get up on the dance stage or down in the Jacuzzi, and strut your sexual stuff. Or, if you're a fairly attractive woman, just lie down on one of the beds with your legs spread, and folks will go after you like the fans hounding J'Lo or Leonardo. Only they won't want your autograph; they'll want your bod.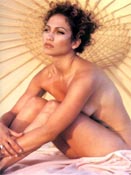 Leo or J'Lo: Which shall you be on your Libertine Adventure?
Of course, some clubs are better for certain kinds of star turns than others. The following overview of three of the best Clubs Échangistes du Cannes should help you decide where to go for your Riviera adventure.
O is for orgasm, or "orgasme" en français. And all three of these Libertine Clubs of Cannes are orgasmic in their own ways. So, it's fitting that the name of each begins with the letter O: L'Oustaou du Moulin, Lez Oub' and L'Oasis.

L'Oustaou du Moulin
11, rue du Moulin - Vieux Cannet - 06110 Le Cannet
Tél. : 04 93 69 16 20 - Fax.: 04.92.94.08.52
Site Internet : http://www.cannes-libertins.com
L'Oustaou du Moulin is the oldest, busiest, best known of the three clubs, even though no one we know can quite spell l'Oustaou or explain its ancient French meaning. Located in Vieux Cannet on the outskirts of Cannes, it's just behind the city hall and municipal police force (now that's some libertine zoning!), so you'll have to take a car there if you're staying in central Cannes at the Majestic or one of the other big hotels near the Palais du Festivals. Rue du Moulin is not easy to find for the first-timer, so if you get lost in Vieux Cannet, just stop and ask a pedestrian. That's what we did, and though the fellow had no idea what street we were talking about, he knew all about l'Oustaou du Moulin and gave us perfect directions with a twinkle in his eye and a spring in his step.

A Photo in the Window of a Cannes Bar: Dustin Hoffman & Ann Bancroft
attend the Cannes Film Festival for the Opening of The Graduate.
After the screening, did they go to l'Oustaou du Moulin?
We arrived to find a lively, colorful club crowded with happy, lusty libertines of all ages, races and languages. Maybe a little too crowded. That is, there was not much room to dance, partly because the dance floor is squeezed into a skinny little space between the bar and the dining area. We found plenty of sex rooms upstairs and down, all of which were very active with sexy swinging couples, exhibitionists and voyeurs, both nights we visited. Maybe a little too active. By the time we worked ourselves up to a sexcapade and located an unoccupied bed, the sticky sheets dampened our enthusiasm.
We had lots of sexy fun anyway at l'Oustaou du Moulin. It's a must-visit for any hedonistically inclined couple touring the Côte d'Azur, as it's quite popular with locals, tourists and a sprinkling of stars, and has the longest, richest history of any of the Clubs Échangistes du Cannes.










Since we couldn't film inside l'Oustaou du Moulin, or any of the libertine clubs, while libertines were actually there, we're showing you a few snaps here from The Womb Room where the same sort of libertine fun goes on.

Part of the history of l'Oustaou intersects with that of the other clubs. Jacques and Marie, an elegant French-Aussie couple (who also happen to be the parents of Emmanuel who runs l'Oasis with his wife Florence), used to operate l'Oustaou. Actually, they seem to have started or run most of the big libertine clubs of Paris and the Riviera, as well as Australia.
Now a gentleman named Jackie is in charge (at least he was the nights we were there). Since Jackie is also the chef, a variety of good French food is always available at l'Oustaou for hungry libertines. Jackie is nice enough, though a little gruff with Americans. We heard a rumor that this is because he is really very shy. Or perhaps it's because of how the Bushies have turned US travelers into Uglier Americans than ever.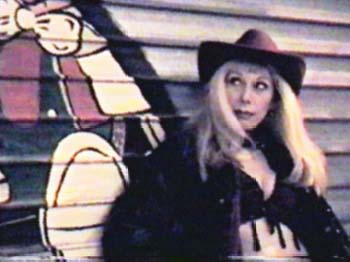 Dr. Suzy stars in "Texan in Cannes" . A BlockFilms Release
For more scenes from "Texan in Cannes" click here and here

Then again, maybe Jackie needs a partner. There was no woman greeting people at the door or showing first-time visitors around the nights that we were there. According to the l'Oustaou du Moulin website, a lovely lady named Nathalie is the manager, but the nights we were there, it was just Jackie, along with Benoît the barman and Eric the disc jockey. All of them were very genial (and Benoît even found my leopard watch, flung off in a moment of passion). Nevertheless, it is reassuring for the newly arrived couple to meet with a woman of the house before diving into the libertine action.) .
Maybe when we return to l'Oustaou du Moulin (and we will return soon), we'll meet Nathalie…
Click on Dr. Suzy's Butt to Continue to
LIBERTINE CLUBS of CANNES,
Part II: LEZ OUB'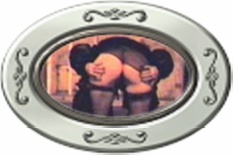 Libertine Clubs of
C A N N E S
in five parts
1 I 2 I 3 I 4 I 5




WAR TIME SPECIAL
See all the hot stuff you won't see on TV!
Join us Backstage!

JOIN I FRONT PAGE I WHAT'S NEW? I JOURNAL I RADIOSUZY1 I.THERAPY I Speakeasy Gallery I Travel I Bonobos I Blockbooks I Sexuality Resource Library I Sex Toys I Bar & Grill I Romantics Lounge I Videos I Erotic Theater