Dr. Susan Block's
TRAVELS with MAX
Libertine Clubs of
C A N N E S
in five parts
1 I 2 I 3 I 4 I 5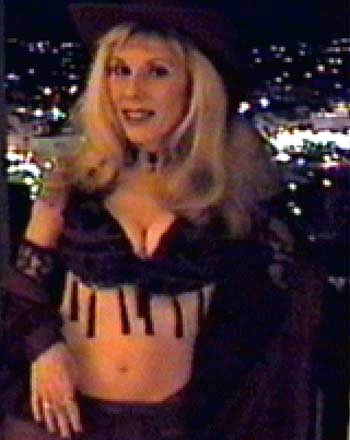 Dr. Susan Block overlooking her favorite penthouse view of central Cannes VIDEO PHOTO: XAM
Dr. Block's top by Shiba ... Dr. Block's choker by Artistic Visions


L'Oasis
4, rue du docteur Calmette - 06400 Cannes
Tél. : 04 93 68 99 73
Site Internet : http://www.echangiste.com
L'Oasis is just the kind of sensuous paradise in the midst of the hustle-bustle of town that it's name implies. It's as conveniently located for visitors to the various Cannes Festivals as Lez Oub', and it has much more erotic action. It's also a bit friendlier to its English-speaking visitors than l'Oustaou du Moulin, partly because it's operators, a lovely couple, speak perfect English. Well, Emmanuel does, since he's actually Australian (his parents are Jacques & Marie, remember?), and his French wife Florence does a pretty good job of conversing en englais as well.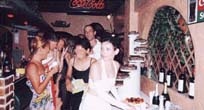 Front door and feeding time at l'Oasis
What she lacks in vocabulary, Florence makes up for in charm. It was Florence, an adorable Audrey Hepburn-like pixie in a sexy nurse's uniform holding a faux hypodermic needle, who greeted us at the door at l'Oasis. As opposed to the other two O's, where we were greeted by serious men in black suits, here we felt transported into an erotic adventure as soon as Florence opened the door. Right away, she took us on a tour. This was informative and reassuring. On one's first trip to any given Den of Iniquity in a Foreign Land, it's nice to have an enchanting young lady show you around.
First stop is the bar, one weak point at l'Oasis, in that they only serve wine and beer, while the other O's have hard liquor. One could say that this means they'd have fewer problems with drunks. But the French are generally so good at holding their booze, it hardly matters. Of course, one can always sip fine French champagne, the quintessential nectar for orgies. Next is the food buffet, not quite as plentiful as the spread at l'Oustaou du Moulin on the night we were there, but very well-prepared in the French tradition.












Crazed fan following Dr. Suzy's yacht across Cannes Harbor
Then you reach the dance area featuring a fairly large space with mirrors to one side and lights shining up through the floor and right up your skirt-ooh la la! Florence danced with us a little, then went back to giving tours and tending bar. Emmanuel, a former dance club dj, ably spins the tunes that keep the mood going and get the blood flowing.
It sure got our blood flowing. Within a few minutes, I felt comfortable enough at l'Oasis to step up on the stage, soon joined by a raven-haired vixen who, by our second song together, had managed to unwrap me from both my skirt and top. Later I learned that l'Oasis is the kind of place that gets your clothes off-one way or another-and fast. If you aren't lucky enough to have someone strip you on the dance floor, your clothes will probably come off at the next stop on your l'Oasis adventure. It's all in the ingenious lay-out of the place, designed for the ultimate, no-fuss, no-muss libertine experience.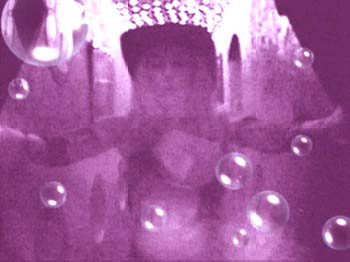 Dr. Suzy welcomes you into the sex rooms of Oasis. Run your mouse over the picture to look through the peepholes.
See, in order to go to the sex rooms, you have to pass through the Jacuzzi area. And in order to go to the Jacuzzi area, you have to take off your shoes. This simple club rule encourages everyone to take off his or her clothes. After all, if a woman is going to remove her high heels, then she might as well remove her clothes, especially if she's wearing a dress or skirt (de rigeur attire at all French libertine clubs). That is, most women don't want to pad around in an evening dress, wet hose and no heels. Much classier to wrap a towel or one of the sarongs provided by the club around your naked bod. Towels and sarongs slip off very easily. And, if you can get the ladies to run around naked, the men will follow.
As for your precious party clothes, no worries about getting them lost, stolen or drenched in someone else's body fluids. L'Oasis provides clean, spacious lockers for every couple. Knowing that your clothes, jewelry, money and credit cards are safely stashed in a locker, the key to which is on a chain around your neck, makes you feel incredibly safe and secure, a great way to be before you abandon yourself to wild orgiastic humping with strangers who don't speak your language. Plus: having a sauna, Jacuzzi and shower right in front of the sex rooms almost guarantees that you're going to have clean partners and even fairly clean sheets. A charming touch to the bedroom area are the ship's porthole-size "peepholes" around the sex areas for voyeurs to peep through with dignity.










The Weimar Love Club: A place in LA where we recreated the mood of a
European Libertine Club in Pre-Nazi Berlin.

Emmanuel and Florence run l'Oasis with the pride, thoughtfulness and artistry that so many other Cannites bring to their restaurants and patisseries. And like some of the best French restauranteurs and small business owners, the trade runs in the family. If you're going to one of the Cannes Festivals, and you only have time for one libertine club, make it l'Oasis.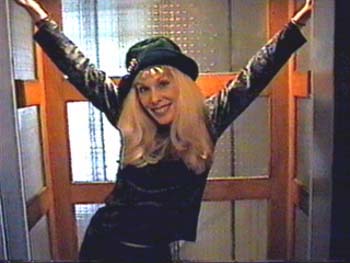 In the Elevator Scene, the Texan trades her Cowgirl hat for a French beret, and enters a libertiine dream...

BACCHANNAL CANNES
Join Dr. Suzy, Friends & Lovers on a Libertine Tour of Cannes, visiting some of these hot swinger clubs and more, March 20-23, during the Cannes Film Festival (May 14-26) in beautiful chic Cannes! For information, call 213.749.1330, click here or email us.

Libertine Clubs of
C A N N E S
in five parts
1 I 2 I 3 I 4 I 5

RELATED LINKS
CLUB DEUX PLUS DEUX in PARIS .....CLUB TABOO in TOULOUSE
AVAILABLE PROPERTIES IN EUROPE




WAR TIME SPECIAL
See all the hot stuff you won't see on TV!
Join us Backstage!


JOIN I FRONT PAGE I WHAT'S NEW? I JOURNAL I RADIOSUZY1 I.THERAPY I Speakeasy Gallery I Travel I Bonobos I Blockbooks I Sexuality Resource Library I Sex Toys I Bar & Grill I Romantics Lounge I Videos I Erotic Theater