TRAVEL & REVIEWS


CITY GUIDE
.......................
AMSTERDAM, HOLLAND

HOTELS
XAVIERA HOLLANDER'S Bed & Breakfast

RESTAURANTS
BALI
PALMER'S RESTAURANT
Restaurant De Roode Leeuw
SUZY'S BAR

COFFEESHOPS
BABA COFFEESHOP
THE BULLDOG

ATTRACTIONS
EROTIC MUSEUM
RED LIGHT DISTRICT
GREEN LIGHT DISTRICT
.......................
CANNES, FRANCE

HOTELS
CANNES SOFITEL
HOTEL PALM BEACH
VILLA FRANCIA


RESTAURANTS
GALION BEACH
LA CROISETTE

EVENTS
CANNES TV FESTIVAL (MIPCOM)
.......................
CARLSBAD, CZECH REPUBLIC

LOCAL LIQUEUR
BECHEROVKA
........................
HOUSTON, TEXAS
AIRPORTS
LOVE FIELD
........................
LAKE COMO, ITALY
HOTELS
LAKE COMO CENTRAL HOTEL

........................
LONDON, ENGLAND

AIRPORTS
HEATHROW

FLATS
BEDFORD SQUARE MANSIONS

PUBLISHERS
SOUVENIR PRESS

RESTAURANTS
CLACHEN'S PUB
FAIRUZ LEBANESE CUISINE
IL PASSETTO
PrÍt ņ Manger
WHAP DEM AN CUM RESTAURANT

.......................


MONTE CARLO, MONACO

ATTRACTIONS
MONTE CARLO CASINO


.......................

NICE, FRANCE

RESTAURANTS
BENKAY

LANDMARKS
THE GOLDEN GATE BRIDGE
......................
SANTA MARGHERITA
LIGURE, ITALY

HOTELS
HOTEL LIDO PALACE

RESTAURANTS
COLUMBO'S
Da Giovanni Ristorante
......................
SEATTLE, WA.
HOTELS
THE SORRENTO

RESTAURANTS
THE HUNT CLUB
......................
TOULOUSE, FRANCE

HOTELS
TOULOUSE SOFITEL

RESTAURANTS
Il PASEO
LE CHEGILLARD

ATTRACTIONS
CLUB TABOO
......................
Z‹RICH, SWITZERLAND

RESTAURANTS
RESTAURANT KRONENHALLE

ATTRACTIONS
THE SWISS ALPS
.......................
TRANSPORTATION GUIDE
.......................
AIRLINES
CONTINENTAL
LUFTHANSA
TWA
UNITED
VIRGIN
.......................
CAR RENTALS
CALLAIS HERTZ
LONDON HERTZ
PHILADELPHIA HERTZ
........................
TRAINS
CHUNNEL TRAIN
THE EUROSTAR
.......................
CRUISES
LIBERTINE CRUISES





NEED TO TALK?


SEX . FUN . WISDOM
The Dr. Susan Block Show



THE BONOBOS



RADIO SEX TV on HBO


MEMBERSHIP HAS ITS
P L E A S U R E S


BOUDOIR SEX TOYS




PRESS AREAS
BIOS OF PRINCIPLES


PRESS QUOTES

Dr. Block's
T R A V E L S . W I T H . M A X

Wherein the Doctor & Her Butler Find Refuge in Five Different American Towns and Eight Voluptuous Hotels
........................
Barnabey's Hotel and Gardens
Manhatten Beach, California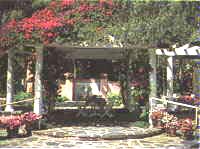 It was just before Valentine's Day, a few weeks into the Gulf War, and Max and I needed to go on a quickie getaway without really going anywhere - a relatively painless way to escape all the stress of watching sorties on CNN - just for the weekend. We didn't want to get on a plane (between an LAX accident and the supposed imminence of airport terrorists, we suddenly developed acute cases of fear of flying), and we didn't want to drive very far. Then we remembered hearing rumors about Barnabey's, a dreamy little Old World hotel in the middle of Manhatten Beach, California, just about five minutes drive from the Redondo Pier. So we turned off Peter Arnett, packed some antique lace lingerie (mine), a Bla Bla T shirt (Max's) and left.
Barnabey's turned out to be exactly what the War Stress doctor ordered: quiet, cozy, relaxing, removed, and very Victorian, thus quite elegantly erotic. Now, we certainly didn't expect to find this little pearl of an inn right in the middle of that vast colorless, cultureless stretch of asphalt called Sepulveda Boulevard. But there it was, right on the corner of Sepulveda and Rosecranz: Barnabey's Hotel and Gardens, an oasis of European romance in the midst of all the ersatz everything and yuppie beach trash of the surrounding area.
Barnabey's was founded by an English innkeeper named Barnabey Post who moved to America in 1839, and the Post family still runs the place with the same cordial Victorian style and hospitality old Barnabey probably grew up with. It's the perfect escape from everything L.A. We walked through those antique doors musing: Good-bye Sepulveda, hello Queen Victoria, hello beautiful genuine curios, paintings and sculptures, sparkling fountains and lacey curtains, canopied beds and Belgian carpets, delicate floral wallpaper and real old romantic novels in all the rooms like Nicolas and Alexandra and The Kitchen Madonna.
Every room at Barnabey's is unique, but all of them look out onto a large 1950's Southern California palm-fronded patio, rather incongruous with the indoor Victorian motif. But with just a little pull of our lace and velvet curtains, we could close out ticky tacky Southern California, close out that ticky tacky war, close out the entire ticky tacky century, and enter an exquisite, delicate, canopied, lacey and velvety Victorian dream. These are rooms for love, these little Barnabey treasure rooms, where lovers can be as luxuriously lazy or discreetly naughty as their heart's desire.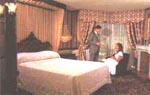 A Barnabey's Boudoir
Barnabey's Restaurant is almost equally conducive to personal intimacies. In our little canopied dining area, we felt as if we were dining alone even though the place was filled with people (Max felt so nice and private, he was already under the table when our waiter arrived). Although the restaurant's bamboo ceiling was incompatible (though it did match the palm-fronded patio), every other detail was Euro-perfect. Dinner was luscious, cooked by a handsome young Viennese chef much better than mama ever made in the old days of the Austro-Hungarian Empire. My favorite part was the spinach deep fried in olive oil that came with the snails as an appetizer (the chef warned me not to try making it at home or I might wind up doing more damage than a scud - remember scuds? - to my kitchen). Brunch was also spectacular. We ate with the chef and the hotel manager, and talked about the hotel, the food, the war. No, alas and alack, there was really no escape from that war, after all, not even at an old Victorian hotel like Barnabey's. But it's still a great place to get away from - most of it - if not it all - without even leaving L.A.
continue to more of Dr. Block's Travels with Max
......................