Dr. Block's
T R A V E L S . W I T H . M A X

Wherein the Doctor & Her Butler Explore Santa Cruz, San Francisco, Summerhill, Sex, Spirits, Shabui and Shrieking Sashimi
........................
The Queen Anne
San Francisco, California

On Friday, we said sayonara to The Nikko and "good afternoon" to it's polar opposite, The Queen Anne, the perfect tonic to the Nikko's cold high-tech splendor.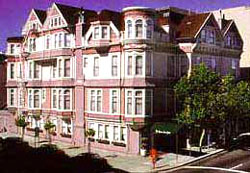 THE QUEEN ANNE HOTEL
The Queen Anne is an adorably quaint little hundred year old San Francisco style landmark lodging on the edge of Pacific Heights. Built in 1890 for Senator James G. Fair, it originally housed Miss Mary Lake's School for Girls, offering upper class young women an opportunity to groom themselves for their future roles as San Francisco society ladies. Nine years later, the edifice was sold to The Cosmos, an exclusive gentlemen's club which conducted God-knows-what kinds of clandestine activities behind bolted doors and lushly curtained windows. Then the building housed The Girls Friendly Society Lodge, a haven for young working women. After a few more owners, it was purchased and painstakingly restored to its original Victorian charm in 1980 by KRV Company, giving it its present identity as The Queen Anne Hotel.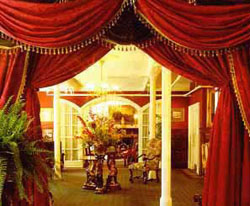 QUEEN ANNE INTERIOR
Pink is to The Queen Anne as grey is to The Nikko. Pinks and burgundies and magentas may not produce shabui-like serenity, but I do adore pink. It conveys a sense of sexy but innocent, little girlish, passionate excitement that never fails to turn me on. There's also a great old Spanish cedar wood staircase, lots of genuine turn-of-the-century antiques, white lace curtains, stained glasswork - all the stuff of the best Victorian inns.
Service at the Queen Anne is gracious but minimal. There's no restaurant or room service, just a pleasant little continental breakfast in the morning, and coffee and apples with newspapers all day in the picturesque old lobby. The manager, Mr. Richard Shaw, comports himself like a character out of an eerie Edgar Allan Poe tale, especially when he warned us to watch out for the ghost of Miss Mary Lake as she especially enjoyed hovering around our suite. We laughed, assuming he kiddingly said that to all the guests. Little did we know...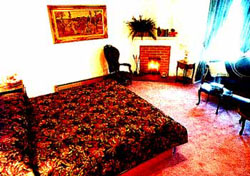 QUEEN ANNE BOUDOIR
By Saturday, we'd had enough NAB. We weren't the only ones experiencing radio convention burnout; people were cracking up in seminars, hiding in restrooms, throwing up in luncheons, collapsing on moving escalators, turning to sheer stone in the middle of hallways. One gentleman, apparently an ex-smoker, noticed a cigarette butt burning in one of those large metal ash containers and, letting lose some sort of primal warwhoop, he kicked the container and every foul thing it contained onto the floor. It was that kind of convention.
So we left, and I took Max on a personal motortour of sublime San Francisco, through all my old hangouts in North Beach, like Cafe Roma, Tosca and City Lights Bookstore, and my old apartment on Jones Street between the Jackson and Washington Street cable cars at the top of Nob Hill, through Fisherman's Wharf and Union Street, to my other old apartment in the Haight-Ashbury, to the classically voluptuous Palace of Fine Arts and, of course, across the Golden Gate Bridge, my bridge.

VIEW FROM THE TOP, MARIN SIDE
Photo: Susan Block
I know that a lot of people think of the Golden Gate Bridge as their bridge, and maybe they walked across it, or they sailed under it, or maybe they contemplated jumping off of it. But how many of them climbed up to the top of it? Well, I did, and I do consider it to be one of the more glorious achievements of my haphazard youth.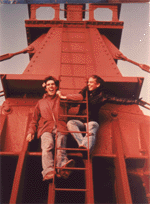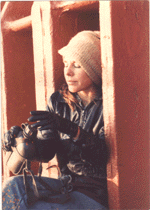 My Brother Steve & Me Share a Laugh & a Drink
Ontop of the Golden Gate Bridge
Photos: Jayson Wechter & Steve Block
A few years ago, every so often, I, along with various friends and relations who probably wish to remain nameless, used to sneak inside the northeastern tower on the Marin side and climb to the top of The Golden Gate Bridge.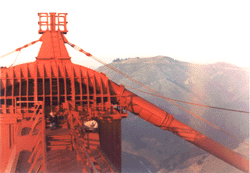 Sittin' Ontop o' tha Bridge
Photo: Steve Block
We also climbed to the top of The Bay Bridge, but that's a lot easier.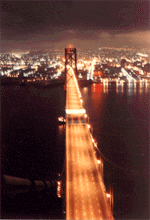 View from the Top of the
San Francisco Bay Bridge
Photo: Susan Block
The first time we climbed The Golden Gate took over nine hours because we didn't know where we were going, and got confounded by a lot of the ladders inside that led to nowhere. Eventually, we learned the mysterious route to the top and could go up in about two hours, down in one. In any case, it was totally awesome, no exaggeration intended. Though not something I advocate for others to try, and certainly not something I do anymore. After all, it's illegal.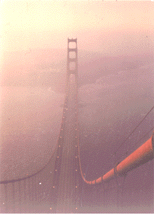 View from the Top of the Golden Gate
Bridge at Dawn, San Francisco Side
Photo: Susan Block
Anyway, back to the Queen Anne, exhausted but exhilarated, and ready for a private passionate evening of good old Victorian romance with my beloved butler. But alas, this was not to be, for it was then that the ghost of Miss Mary Lake struck. Then again, maybe it was the ghost of Jim Beam. Probably a combined effect of the spirits of Jim and Mary, because after yours truly took a couple hefty swigs of Beam, I don't know how to explain it except that something like a dybbuk got into me and I started babbling nonsequitors like the uptight, addled Victorian professor that Miss Mary Lake probably was. Anyway, Miss Mary Lake or whoever I was possessed by wasn't about to commit lewd acts of unlicensed intimacy, much to poor Max's frustration, and I just babbled until we fell asleep.
Oh, those of you who are now worrying about the state of Max's and my sex life can rest assured; the ghosts of Miss Mary Lake and Mr. Jim Beam left before morning, and we had each other for breakfast in bed. Yumm! We even had seconds.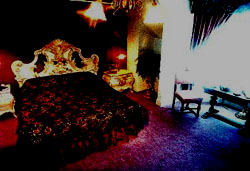 The Ghost of Miss Mary Lake
Wandering through the
Rooms at the Queen Anne

View from the Top of the Golden Gate Bridge
Photo: Susan Block
continue to more of Dr. Block's Travels with Max