DR. SUSAN BLOCK'S
T R A V E L S . W I T H . M A X
EUROPE (continued)
The Importance of Lunching with Ernest

Ernest & I Dine at Il Passetto ..........PHOTOS: MAX
Except to reject a breakfast that made Jack in the Box appear gourmet, we snoozed through all three hours of our Eurostar ride back to London (amazing how 186 mph can lull you to sleep), and came back into town for a full morning and afternoon of interviews and photo sessions. I really felt I was earning my keep at the flat that day.
Sandwiched between meetings, like a delicious prawn salad between slices of rye, was lunch with our dashing publisher Ernest Hecht. Ernest managed to pull off wearing one of the most unusual outfits I'd ever seen, two halves of two different coats, the right half being more or less a suit jacket, and the left, surrounding a broken arm, more of a windbreaker. Of course, who was I to criticize, wearing the same turquoise Chinese silk jacket from London to Paris and back to London again? Amazingly, it wasn't stained with chocolat or escargot. Well, maybe un peu de beurre
We met at the Souvenir Press Book Shop at 43 Great Russell Street, where I was pleased to see a splendid 10 Commandments of Pleasure display in the windows, including an adorable miniature powder blue bed. No dildos or vulva puppets, but it did have a few cute little pillows.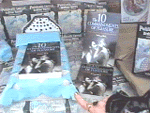 Our Display Window (note bed
under book) PHOTO: MAX
Then we strolled over to Ernest's favorite local eatery. Everyone in London has a favorite local eatery where the staff calls you "Princess" and the owner treats you like a friend and you're pretty sure you won't be poisoned. Over a refreshing lunch of chilled asparagus (makes your pee smell a bit strong, but it's so tasty), seafood salad, pasta and light rosé wine at Il Passetto (on the corner of Shaftesbury and Bloomsbury Way), Ernest regaled us with torrid tales of kooky authors from 50 years of publishing. We felt a part of the Souvenir Press Family.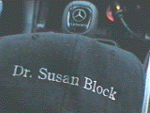 Mercedes & Me ..PHOTO: SUZY
A-Motoring We Go
Just when we're feeling like we sort of lived there (I actually got used to the pump toilet), we were leaving.
On Saturday, our book tour became a motor tour. At Hertz, we rented what we expected to be a Volvo, but when the desk clerk heard we were from Beverly Hills ("That's my favorite show!" he squealed, and I didn't know whether to feel flattered or horribly embarrassed), we were immediately upgraded to a sleek midnight blue Mercedes E-320. There was only one problem: the driver's seat was on the wrong side! That is, it was on the right side, which is where all drivers' seats are in England. Don't ask the English why they do this. You'll be testing their politeness. They're not about to change now with all their cars and streets the way they are. But it does seem obstinate when everyone else in the world drives on the left. It's certainly doesn't seem "normal." Except in England, it is perfectly normal, and any car with the wheel on the left is considered "weird" or "European."
The drive through London alone seemed to take as long as going cross-continent. "What's the hold-up?" we asked a fellow driver stuck in the jam.
"There's a major diversion!" he called back politely, having heard all about it on his radio. "A building fell down!" A what? Is this what comes of so many old buildings? Are they now crumbling into the street?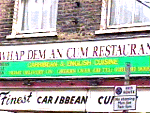 Whap Dem An Cum on the
Outskirts of London ..PHOTO: SUZY
We finally crawled out of London, then cruised past the white cliffs of Dover into Folkstone where we found ourselves getting on the third type of train we'd ridden within four days. This was a big one. The Chunnel. We actually drove the car onto the train. They pile a lot of those cars in there too. The Chunnel train was doing more business than the Eurostar. So, we sat in the car listening to Tom Jones sing "Sexpot" as the train took off, not as fast as the Eurostar, but hey, it was carrying a couple hundred cars, right through the channel. Faster and easier than a ferry, though less picturesque.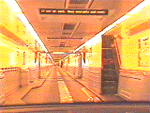 Inside the Chunnel Train
PHOTO: SUZY
We made the switch to a car with a left side driver's seat (ah, normality!) in Callais. We'd just lost an hour, and it was 5:55 PM, meaning we just made it before Hertz closed at 6 PM. What if we were 10 minutes later? What if another building had fallen down? We'd have had to spend the night in Callais, one of the dullest cities in Europe.
Fortunately, Venus and Mercury (God of Transportation) were smiling on us, and we got the last Mercedes E-320, a sleek silver beauty.


Our Trusty Steed ... PHOTO: MAX
Max kept driving, loving it. He drove 14 hours straight. Then Onie (who came with us from LA) took the wheel. Out on the French open highway, with almost no speed limit, we cruised at 160 kilometers per hour. I had no driving duties, so I contented myself with filming the sunset and a bit of auto-pleasuring.











A Climactic Sunset............................................................................... PHOTOS: SUZY
As the glittering sun set through a cloudy sky over the French countryside, we spotted a glorious big red balloon. At first, it was just a tiny red dot on the horizon. It was exciting to watch it grow bigger; I was half-expecting to encounter Jules Verne. But the closer we got, the more clearly we could see…white letters on red…spelling… "VIRGIN." Well, at least it didn't say MCDONALD'S . VIRGIN is ubiquitous in Europe.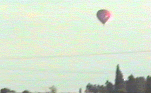 Up, Up & Away........ PHOTO: SUZY

Just for one afternoon, I'd like to fly a balloon that says SLUT.
Continue to more of Dr. Block's Euro-Travels with Max