DR. SUSAN BLOCK'S
TRAVELS .WITH MAX
Wherein We Attempt to
Escape The Terror with
The Libertines of France,
But Only Succeed in Having
a Fabulous Time
by Dr. Susan Block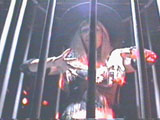 Securely Caged at Club Taboo
"Everyman has two countries, his own and France."
.........................Benjamin Franklin
After three days of intensive drinking, exhaustive dancing, global networking, yacht-hopping, war watching, terror management and creative show-peddling at the Cannes TV Festival (MIPCOM), we decided we had to relax.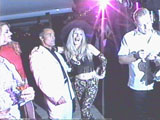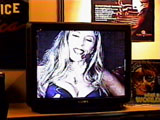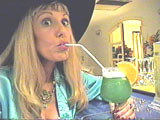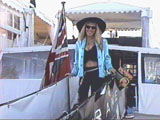 Posing for Paparazzi, Showing our New Video "Weimar Love: Hot Sex in Pre-Nazi Berlin" at Planet Pictures, Drinking and Yachting: C'est La Vie!
Well, not just relax, because simply lolling around the preternaturally gorgeous Cote D'Azur with a flute of champagne in one hand and a pain chocolat in the other, valiantly attempting to chill, merely led to more paranoid musings about wars, bombs, boxcutters, anthrax, God, Oil and freefloating fanaticism.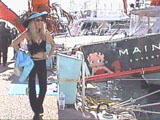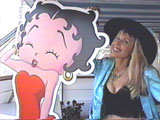 On the Betty Boop Yacht at the Cannes Harbor
No, what we needed was big-time distraction. Major diversion. A nice, stimulating, somewhat daring, but not too dangerous French adventure. Fortunately, the French are masters of such things.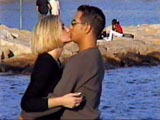 French Lovers or Expatriate Tourists?
French sex is like French cuisine: Delicious, fresh and very saucy. Natural and unforced (unless you like a little force). The Saumon Tartare (lightly spiced raw salmon) at Nice's Leviathan Kosher Seafood Restaurant features a taste and texture that is so much like a set of moist labia, if you eat it blindfolded, you're sure to climax.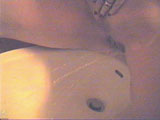 Saumon Tartare à Leviathan et Poussé Mouillé Sur Le Bidet
Sampling the gastronomic-orgasmic Salade de Trois Saumons--Saumon Fumé and Saumon Grillé in addition to the mouth-melting Tartare--at the Mirador of Nice felt like swinging from fish to fish. A Ménage à Trois from the sea.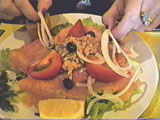 Salade de Trois Saumons à Le Mirador:
A Fishy Ménage à Trois
The French are natural swingers. Few of them cherish idealistic illusions about monogamy like so many Americans do. Many Frenchmen and women, including their highest-ranking politicians, simply cheat on each other. But those who are more honest about their desires try swinging. They call themselves "libertines." Shades of the Marquis de Sade, though French swingers tend to be more sensualist than sadistic. In any case, "libertine" is a much more romantic term than "swinger," n'est-ce pas?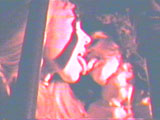 Tasting the Libertine Life at Taboo
We'd heard about the easy, open quality of French swing clubs, but we'd never actually experienced one. So when we were invited to visit Club Taboo in Toulouse, we didn't hesitate to hop on a train. Trains are a great way to travel in France, especially after my harrowing 10.5 hours on the frontlines of the Terror War in a packed and edgy 747 (for more on my exciting plane ride, see We Are All Afghans Now).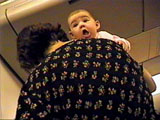 Possible terrorist on our Lufthansa 747 to Europe

It's probably easier to do damage to a train than a plane, but somehow, it didn't feel that way, as we stretched out and made out in our sleeper cabin while the captivating Southern French countryside whooshed by our window like a film on fast forward.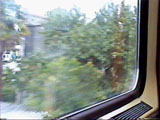 Whoosh! goes Toulouse
We were picked up at the station by our gracious vivacious hosts, natives of Toulouse, the effervescent Marie and debonair Joël.



Sexy Marie & Joël (doesn't he look like Robert DeNiro?)
Joël and Marie are big bon vivants. They love all things hedonistic, from food to sex.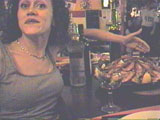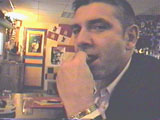 Marie shows off the spectacular paella at Toulouse's Il Paseo Restaurant, &
Joël eats it. This is fitting, as Marie is a great show-off & Joël aime à manger.
They whisked us to our new digs at the Toulouse Sofitel, a business travelers' haven featuring plush facilities and some of the biggest beds south of Bordeaux.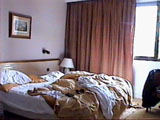 Our bed (after a night of hot sex) at Toulouse Sofitel
Toulouse wasn't Too Loose for Us; It was just right!
It was a refreshing switch from our splendid but Spartan facilities in Cannes at the Villa Francia. We adored that little apartment, perched atop the highly cultured wildness that is Cannes, with its stunning, picture-postcard views of the opalescent Mediterranean, surrounding hills and buildings.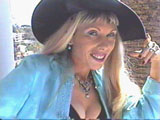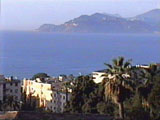 The view from our private balcony at the Villa Francia in Cannes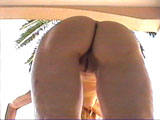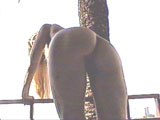 Another view from our private balcony at the Villa Francia in Cannes
But the endless up-and-down-stairs hikes from the reception area to our apartment were absurdly grueling, especially when we'd first arrived, and, with nary a porter to be tipped, we found ourselves dragging our luggage in the rain like a couple of coolies.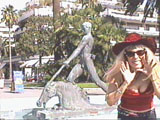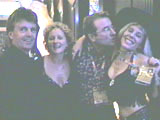 À La Croisette en Cannes and hanging with the Planet Pictures gang at MIPCOM
The Toulouse Sofitel was just the opposite. What it lacked in natural charm, it made up for in state-of-the-art comfort. Actually, the Cannes Sofitel combined the best of both worlds, très comfortable, and dripping with neo-Old World elegance.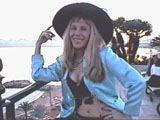 Chilling on the Rooftop Garden of the Cannes Sofitel
During the TV Fest, we party-hopped to a lovely champagne soirée on the magnificent Cannes Sofitel rooftop garden for September Films International, the folks who brought you me in such international television classics as Hollywood Women and Hollywood Sex.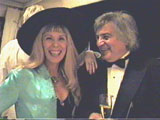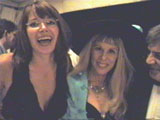 Drinking & shmoozing with September Films CEO David Green & Director Sally Miles
Anyway, back in Toulouse, we took quick hot showers and changed into our dancing clothes, had a fast but yummy bite to eat at Restaurant Le Chegillard (apt translation: "the piece of meat"), then hustled our own juicy chegillards over to Club Taboo where the dancing had just begun.

Puttin' on the Boots, Goin' to Taboo!
The French are big on dancing. Unlike the Dutch who are amazingly open about everything from pot to prostitution, but can't seem to dance (click here for more on why the Dutch are dancing-impaired), the French have no problem with dancing.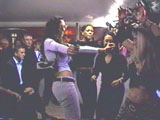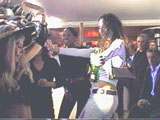 French dancing is enthusiastic
Continue to more Libertines of France