DR. SUSAN BLOCK'S
TRAVELS WITH MAX
Libertines of France (continued from previous page)
Not that the French are extremely good at dancing; the Spanish to the East, not to mention the Africans to the South, are much better technically and rhythmically. But what the French lack in rhythm, they make up for in enthusiasm, energy and charm. French dancing is not intimidating, but it is engaging, and oh, so inviting. Très attrayant.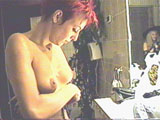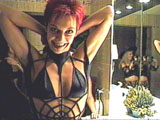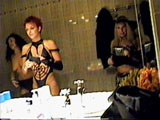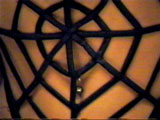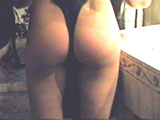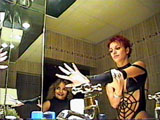 Sexy Sophie gets ready to dance and swing at Club Taboo
That's not just in Toulouse, of course. There was lots of hot dancing in Cannes at the MIPCOM Boob Tube Fest.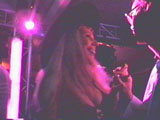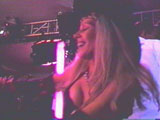 Pink-Hot Dancing at the Cannes TV Fest
Since the crowd was global, the dancing ran the gamut from expert to inept. Opening night at the Hôtel Palm Beach (I flew all the way to France to go to Palm Beach? Guess so…) was the sexiest, with all the hot young buyers and sellers of global television cutting loose and behaving like the stars they were trying to buy or sell.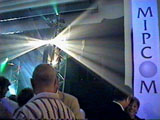 Dance, dance, dance
The air was electric with fear and desire. The tragic 9.11 attacks had occurred just a few weeks before, the awful bombing campaign was underway, debilitating anthrax panic was around the corner, and there was loads of nervous energy to spare.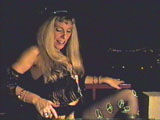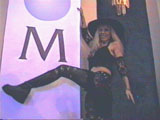 Wearing Peace Sign stockings to the Opening Party, first night of the War
These are prime conditions for sex, or, at least, dancing. The DJ must have played Tom Jones' Sex Bomb enough times to blow us all up.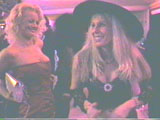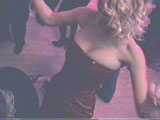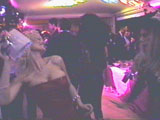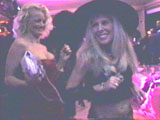 Dancing with a Playmate at the Galion Beach. Dance picks up where talk leaves off
The next night's big dance party was sponsored by Playboy TV at the Galion Beach en La Croisette, a sensuous establishment right on the shore, filled with lots of pillowy couches and a sizable dance floor, with easy access to the breathtaking beach, featuring a distinguished bunny made of sand.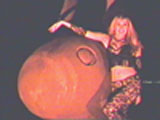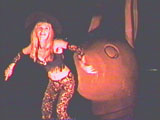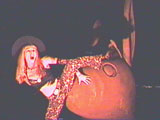 Bunny Love at the Galion Beach Playboy Party
Only problem was the balance of gender power: about 13 Playmates and 600 guys. Some of the Playmates were quite cute, but still, there were enough frustrated, unattached men in the joint to fight a Holy War.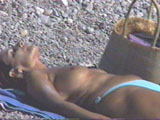 The French are refreshingly easy-going about toplessness on their beaches & their buildings
The testosterone-to-estrogen ratio was much better at Club Taboo. But then, that's one of the things that owners Marie and Joël like to nurture in their urban paradise for the libertines of Toulouse. It's a clean, well-appointed place with tasteful erotic art, including an imposing carved wooden phallus that everybody likes to rub up against. Flanked by a busy bar and the cheerfully sexy hatcheck girl is the Taboo dance floor. This is where couples, singles and the occasional ménage à trois move, groove and express their sensuous selves. On either side of the floor are les deux cages where exhibitionists--both pro and amateur--dance like dervishes, sometimes naked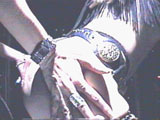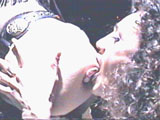 Marie aime notre derriere---et nous aimons Marie!
We danced up a tempest, stripping down to a g-string, then tore that off to replace it with a fluorescent Taboo thong in front of dozens of smiling voyeurs. We danced, pranced and romanced, entangling ourselves in the lustful arms of a voluptuous smiling Spanish girl (the best dancer in the place), an exuberant, athletic young male and a nude slip of a girl with no slip, no skirt, no panties, no nothing. Everyone was good-natured and horny, sexually energetic without being pushy. Well, except for the young male who kept asking me to jouer in the back room.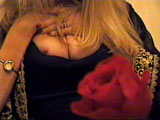 La Vie En Rose
The back rooms of Club Taboo are for sex. People join the couples and groups in the backrooms casually but respectfully. Sometimes they're empty (though it always feels like you've got company because of the mirrors). Sometimes they're packed with lusty libertines.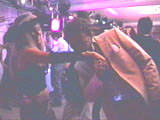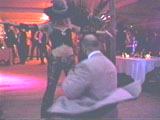 Frenchmen are aggressive, mais très gentil.
After all that dancing foreplay, we found ourselves in one of the backrooms engaging in wild wet sex acts. We even managed to climax in there, watched by the eager but deferential eyes of all the guys--and a few gals--that could squeeze into the doorway. As I wobbled through the passageway, someone suggested that I enter the "grope box" so that various members of the crowd could thrust their hands or other appendages in to cop a feel. I was utterly enthralled by the concept, but not ready to go quite so global so soon.
As we staggered out into the parking lot, we noticed about a half dozen police officers cruising around, but they weren't busting anybody. Just checking things out, making sure there weren't any terrorists lurking around, joking with Joël, maybe trying to get a look at some hot libertine chicks, hoping one of the gals might like a guy in uniform. Everyone was all sparkly smiles, a nice break from Le Terreur.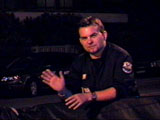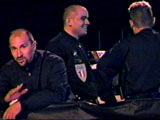 Friendly French Police
Of course, we hadn't really escaped it. Not at all. Just around the corner and down the road from Club Taboo is the Toulouse chemical plant that was the scene of a mysterious explosion, killing about 30 people, just 10 days after the attacks on the World Trade Center and the Pentagon. Officials say it was probably an accident, though an ethnic-Arab Frenchman named Hassan Jandoubi (said to have cheered the attacks on America and complained when co-workers flew American flags in solidarity), was found at the epicenter of the explosion wearing, interestingly, five or six pairs of underwear, said to be common garb for Islamic suicide bombers, who knows why. Maybe you remove a pair of panties each time you go through a gate of heaven until you reach your 70 virgin houris and then you can finally get naked, I don't know. Anyway, experts say he was dressed for terrorism. Of course, Jandoubi's widow said he was not a suicide bomber, and he only wore all those undies because he was trying to pad his skinny butt.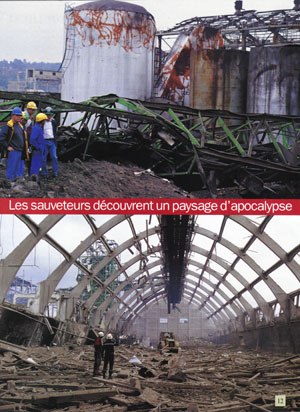 Toulouse's Own Terror (Figaro)
Who knows? Certainly not us. There's only one thing we do know: We can never escape the Terror. It is the constant reality of le mort, following us everywhere, chasing us down, wearing us out, sometimes surprising us, sometimes shocking us to our core. We can never escape Le Terreur. But we can defy it. And we can beat it at its own game. We can live life to the fullest in the face of death, in spite of terror.
For that, sex helps. So does Saumon Tartare, but you can't eat raw fish for every meal. So, sex helps a lot. Sex gives life, celebrates life, is life, is the Great Communicator and the Supreme Diversion.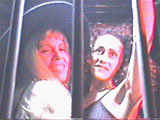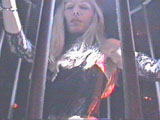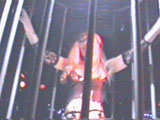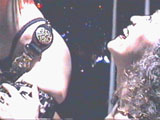 La Cage aux Libertines à Taboo
And Club Taboo is a great place to explore sex with a minimum of terror. After all, a little bit of fear spices up sex, comme une soupçon d'épice intensifie la cuisine. But too much spoils the meat (ooh, le chegillard!). There's a hint of fear and trepidation in the air at Club Taboo, but it's just enough to get your adrenaline going. Essentially, this is a place that sensuous couples and ethical hedonists can feel very safe and very much alive.
Next: Marie and Joël are taking Taboo out to sea for Libertine Cruises, sensuous swinger boatrides through the Mediterranean and the Carribean. The first one's in January, 2002, kicking off a New Year sure to be wracked with terror with defiant yet peaceable joie de vivre.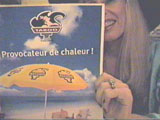 Perusing the brochure for Taboo's Libertine Cruises
Stay tuned for more Taboo adventures with the Libertines of France...