DR. SUSAN BLOCK'S
T R A V E L S WITH M A X
Paris Pleasure Travelogue
(continued from previous page)
The next day was April 12, our 10th wedding anniversary, so we spent practically the whole day (where else?) in bed, relishing the feel of skin-on-skin, looking into each other's eyes like tantric bonobos, talking about the 10+ wild, whacky and mostly wonderful years we'd shared together, spinning dreams for the next 10. We also had to move from one place to another. It was a bit of a pain, but hey, for our anniversary, we made love in two different beds, and the second was better than the first (we take our omens where we can get them)!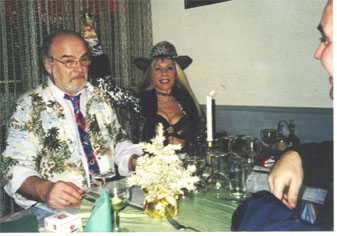 Max and I celebrate with our friend Thierry
Having spent our actual anniversary day blissfully en seules, the next night, we decided to go out and party. We dressed up and took ourselves over to Deux Plus Deux Restaurant, Bar et Salon: Le premier Club de rencontres libertines entre couples. Owned by an elegant middle-aged couple, and in operation since 1972, Deux Plus Deux, is the biggest and oldest of the Paris sex clubs. But, like all of us libertines, they have had their share of travails. In 1999, after 27 years, the venerable old libertine haven was evicted from its lodgings (hearing this we didn't feel quite so bad about our own recent, painful, obscenely unfair eviction), but these veteran swingers didn't cry over spilt semen. They just picked themselves up by their G-strings and relocated to a palatial new space on 9 boulevard Edgar Quinet in the 14th district of Paris.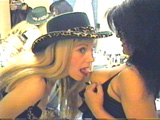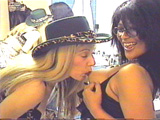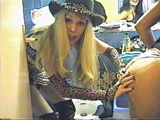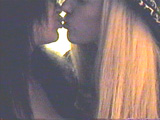 Imanne & I start to party in the ladies' room
Interestingly, the only fat people we saw in France were in Deux Plus Deux. At first, this was perplexing. Doesn't sex burn calories? Then it hit us: Most of the large libertines we saw at Deux Plus Deux were American and German tourists! Some couples, but most were portly American and German men accompanied by hot Moroccan women (we won't speculate as to how they got together). I danced with my own hot Moroccan downstairs, then we ventured up to the steamy sex salon, where we played with the libertines while Max ogled the traffic. Unfortunately, we were not allowed to take photos there (most swing clubs won't permit it), but the evening proved just inspiring for another nuit d'amour avec mon mari.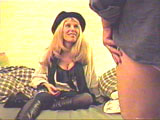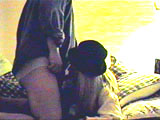 another night of love with my spouse
My last day in Paris, we dragged ourselves back to NSEO for another radio interview, this time with Maria Fasulo, an Italian interviewer. This was a tri-lingual show: English, French and Italian. This time, we drank Fernet Branca, a spicy Italian liqueur with reputed healing properties. It was fun, and Maria was a sweetheart, plus we're hoping it catches the ear of an Italian publisher (that's one country we haven't nabbed yet, even though Max is Italian, and a Filangieri Italian prince, at that), but by the end of the hour, the language department in my cerebellum was spinning so out-of-control, I couldn't tell grazie from merci, thank you very much.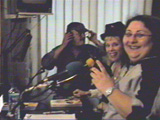 Tri-lingual radio on NSEO with Maria Fasulo
Before we left the station, I did an interview with Intervue. That is, we talked with the lovely Florence Julienne who's writing something or other for Entrevue, Maximal and/or UNION: the international guide to human relations.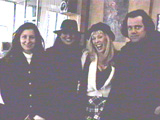 Florence, Imanne and Stephane and me at NSEO
Her Union Magazine piece is not just about Les Dix Commandements du Plasir, but also about our soon-to-be-a-major-Gaulist-attraction: The Dr. Susan Block Institute in France! In it, she writes that the Institute and the show are "hotter than Loft Story." Since Loft Story is one of the hottest shows in France right now, we must be steamin,' bébé.

Florence's article about us in UNION. Click here for the English translation
Next day, I was scheduled for departure. LA, mon mari, was calling me, with many duties to attend to. But parting from mon amant, Paris (and Max), was much more sorrowful than sweet. In fact, I'm a little embarrassed to admit, I could not stop crying! Tears flooded my cheeks like the Paris Spring rain. Eventually, Max was crying too, we were both bawling like a couple of bébés, and we couldn't leave each other that way (not with the possibility of shoe bombers on every plane and Jewish-Arab riots in every airport), so I missed my flight. Rescheduling my reservation for the next day was a bit of a hassle, BUT this meant we had an extra 24 hours together.
And oh, those 24 hours! As soon as we realized that we did, indeed, have one more day, our tears evaporated, and other juices flowed. These "extra" hours were the most amazing of the entire trip. We spent them in each other's arms, experiencing all that we adore about each other as if for the first, or maybe the last, time. We played, we ate, we drank, we talked, we kissed, we fucked. These were "stolen hours" and, like forbidden fruit, their illicitness made them all the more delicious. It was like we were having an affair, my husband of 10 years and I.
And maybe we were. That's what The 10 Commandments of Pleasure is all about, of course: How to have an affair with your spouse. How to whip a lax love life into passionate shape.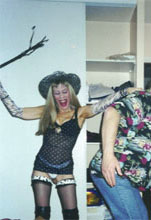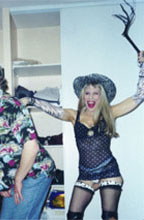 Whipping our Love Life into Shape is a Continuous Process
The French, of course, know all about affairs. They're very sophisticated about love. They tend to solve a lot of problems with love by having les liaisons dangereuses, les affaires du coeur. The very word affaire may have dropped it's silent "e" in English, but it has never lost its essential French accent. Some French folk scoff at the book's idea that you can have a long, passionate, love affair with your very own husband or wife. But enough have embraced it to put Les 10 Commandements du Plaisir into its second printing, so...pas de problème
The next morning, we really had to go, Max onto Spain (where a Spanish book deal for The 10 Commandments of Pleasure is now in the making, and where he is continuing to write his book, Depraved, about the sex industry in the 70s), and I had to go back to El Lay. Yet, somehow, parting was a little bit easier, perhaps because we'd had our "stolen" day. Still, I was in a low-grade depression, as I was, after all, leaving my Great Love. It helped that I got a ride to the airport with none other than Imanne's Maman. How wonderful to meet the woman who had produced the delightful young lady assisting us on our French adventures, the funloving, brave Muslim Moroccan who had taught her daughter never to wear the veil (except for fun). And her dog Rose was very cute too!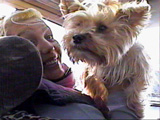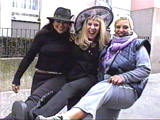 Rose le Chien de Fanny, et...Imanne, Moi et Fanny faisons le Can-Can
I will always cherish this photo of us: the wacky Jewess between the two wild Muslim women, safe in their warm embrace, as we kick up our heels for peace.
So, as they say en français...
Je Vous Embrasse !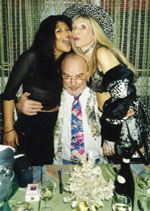 un grand bizou !
Click Here for Imanne's beautiful
handwritten Father's Day Letter to Max


JOIN I FRONT PAGE 2 I SITE INDEX I WHAT'S NEW? I. JOURNAL I THERAPY